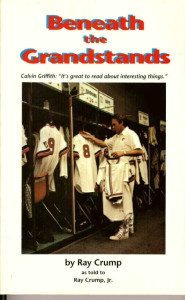 The first-ever equipment
manager for the Twins
shared his career story.
A real book, still
available from
www.domeplus.com
Reflecting on yesterday's post, I realized that so many noted names in baseball history get ignored by collectors.
Why? No cards! Nothing to get autographed.
I've yet to find anyone who's posted news of an autograph from the following:
— Yosh Kawano, former Cubs equipment manager
— George Toma, member MLB Groundskeepers Hall of Fame
(Look it up. No kidding!)
— Gene Geiselman, former Cardinals trainer
— Ernie Hays, former Cardinals organist
— Dick Martin, former Twins trainer
Sure, I'd love to get questions answered by these guys, names I thought would be part of baseball forever.
Most of all, I want them to see my letter. I want them to know I remember.
What out-of-uniform names from team rosters would you add to the list?