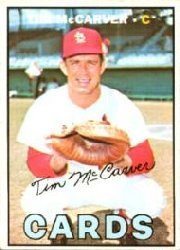 He always looked
trustworthy…
I've always believed in Tim McCarver. He signed my autograph request back in the early 1970s.
I've sat patiently listening to him do games on FOX, ignoring his numerous naysayers.
However, I'm truly concerned about the former catcher. I wrote in 2011 about tough signers making the extra effort for Americans in our military.
Well, I guess McCarver missed that feature. An unsigned card returned in a serviceman's SASE was the icy response a letter to McCarver brought.
Anyone knows a military APO address. The letter told who was asking for the autograph.
Thank the man for his service, TM. Hall of Famer Whitey Ford did that just last week, never requesting the charitable donation he seeks per signature.
Are you really getting that much mail, Mr. McCarver? Someone opened that envelope with your name on it. Someone took the time to use the postage on the SASE to NOT honor this man's military sacrifice that he's making for all of us.
I've been watching McCarver explain baseball's inner workings for decades. I'd love to see him analyze this.