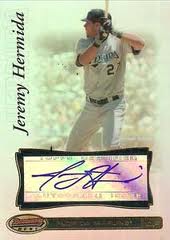 Baseball-Almanac web guru
Sean Holtz has employed
Steve's hobby karma theory,
finding certified autographs
of tough signers who've
fallen from grace. Be sure
to check out Jeremy's BA page!
Move over, "Mendoza Line." Minnie, take a break. One hobbyist has coined a new term:
The Jeremy Hermida Principle.
I loved learning about Steve Darms. He knows that good things come to collectors who wait. Or, he's uncovered the theory of hobby karma. Here's his story:
Q: What are your autograph specialties? Have you 'graphed in person?
A: My collection is all over the place, in all sports. It probably would be easier if I just focused on one team, but I want everybody. It doesn't matter if they're the star first baseman, or the pitching coach. The one constant is that 99% of my signed items are on flat items in binders (cards, photos, and team-signed rosters). For the record, my favorite major league team is the Blue Jays, and in our family, we HATE the Yankees…I'll still get their minor league players to sign, though ;-).
In person, my teams are the Syracuse Chiefs, Auburn Doubledays, Binghamton Mets, and their opponents. (I also do Syracuse Crunch hockey, and Syracuse basketball and football during the baseball off-season). I've only been to a handful of major-league games, and haven't tried to 'graph there. It's always easier to just get them in the minors before they become impossible to get. And while I do want to get everyone, I won't go to the hotel, or come to the park 4 hours before the gates open. I just do regular pre-game and post-game, and if I don't get certain guys, I can trade with my fellow collectors, or just buy a cert card of them at a show.
That's always sweet revenge, getting blown off by a player and then finding a cert card in the dollar bin at the next card show. (I think that phenomenon should officially be re-named "The Jeremy Hermida Principle.")
Q: How long have you collected?
A: My first ever autograph was Bob Feller at a show when I was one, in late 1983. My father got him to sign his 1955 Bowman, personalized to me. When I was a kid, I would bring my program down to the Chiefs dugout at games, because it was something to do. I really didn't get fully bitten by the autograph bug until the summer of 1998, when Jose Cruz Jr. was on rehab with the Chiefs, and I had a card I really wanted signed. During the game, I realized I'd heard of about half of the players on both teams. That's when I realized I should be coming for every visiting team too. (I did end up getting Cruz outside after that game.)
Q: What other collectors helped you learn?
A: I think the thing that really influenced my collecting was a letter in the autograph column of Tuff Stuff magazine in the summer of 1999 (I think Ken Griffey Jr was on the cover). A collector had written in, talking about how he mainly collected guys from the minors and other lesser-known players. I believe his last sentence was something like: IF YOU WANT A BIG COLLECTION, REMEMBER THE UNREMEMBERED GUY. That's what triggered my "need" to try for everyone. If I didn't have a card (which was often the case), I'd get them to sign the team roster, so I'd have them on SOMEthing. I never understood when other collectors only got the guys they had cards for, even as other players were on the verge of the majors.
Q: Have you had any personal replies in TTM collecting? Notes or letters answering questions?
A: I started doing TTM in 1998, and probably send out an average of 100 requests per year (though with each new year, I keep telling myself I should send out more). I don't usually ask the guys questions, but have gotten a few notes back, from John "Mule" Miles, Virgil Trucks, Billy Sample, and Bob Watson.
Q: Lastly, do you have hobby goals or projects?
A: I've been working on the 1985 Fleer & 1985 Fleer Update sets, and the 1999 Team Best Baseball America set. I'd like to finish those, though there are several deceased players and expensive HOFers still to go in the Fleer set. I guess the only other goal is to just keep getting whoever I encounter, from any sport or area of interest, even though, according to my girlfriend, that makes me an "autograph whore."
Coming Friday: Don't miss this one, folks: Dodgers pitcher Carl Erskine talks autographs. He shares words guaranteed to make you stand up and cheer!