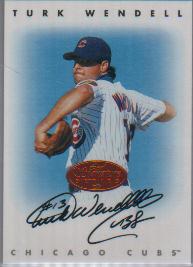 Pitcher. PATRIOT!
Coming soon…
I have an amazing response from pitcher Turk Wendell. While he offered some great baseball insights, his comments on patriotism give us a perfect way to celebrate this Veterans Day.
Although I had squirreled away the whole letter for publication next week, I'm grateful that my wife Diana convinced me that I should share a bit of Turk's inspiration for this holiday.
From Turk Wendell:
"The Armed Forces are the real heroes of the U.S.A. Although baseball is America's game, our Armed forces should be on their own baseball cards!!"

I second that emotion.