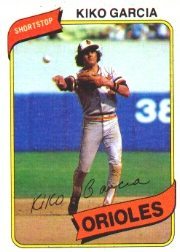 Garcia was the first-ever
IP signer I met who wanted
to autograph an index
card VERTICALLY!
Here's two reasons to root for the Baltimore Orioles.
Start with Ryan. Talk about a man on a mission. His Great Orioles Autograph Project blog showcases what one focused collector can accomplish. Check him out often. More than 900 men have played for the O's in their six decades. His want list has just five names left!
More than an account of autographs, he's proving that Baltimore will retain at least one fan in its rebuilding.
I confess. I'm toasting those Birds yearly, too.
Why? They made me believe in Bull Durham. I know a real, live Crash Davis character.
His name is Jeff Lantz. For years, he shined as media relations director for the Iowa Cubs. I couldn't help but wonder if he was a lifetime member of triple A ball. If he was a player, he'd have 24 chances of finding a job with a major league club. Fewer jobs and fewer opportunities await a front office warrior.
But, Baltimore saw Jeff's potential. In 2009, the Baltimore Sun blog renamed Jeff "Orioles PR Wizard."
When the team starts winning again, I know two patient guys who deserve the first slices of victory cake.
Meanwhile, I decided to chase some Orioles magic of my own toward my mailbox. Here's the 10 former O's I've contacted:
Kiko Garcia
Larry Harlow
Pitcher Dave Johnson
Scott McGregor
Joe Nolan
Bob Reynolds
Ken Singleton
Billy Smith
Don Stanhouse
Ed Watt
Coming Thursday: Meet collector Steve Darms, who's discovered a new hobby formula!