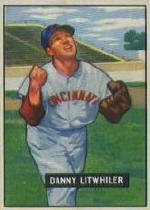 I missed out on writing to Danny Litwhiler, who held the distinction of being the oldest Cincinnati Red until his recent death at age 95.
His statistics aren't overwhelming. Although anyone with more than 100 career homers isn't a slouch.
His obituary told the untold story about Litwhiler. The outfielder posed for a picture with Jackie Robinson when the Dodgers visited Cincinnati in 1948. The gesture helped quell racial tensions.
Litwhiler's questionable knee kept him out of the military until 1945. Nevertheless, he found a way to serve the war effort.
He molded future careers for Rick Miller, Kirk Gibson and Steve Garvey as a college coach. During his collegiate career, Litwhiler pushed for innovations like radar guns and Diamond Grit to keep wet fields playable.
In 2000, he teamed with talented author and historian Jim Sargent to write Danny Litwhiler: Living The Baseball Dream.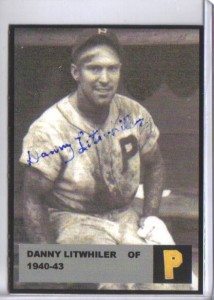 Phillies fan Stan Price was one of the lucky ones who tracked down Litwhiler before the veteran's health (and signing) went downhill beginning in 2009. You can tell tons about Litwhiler's work ethic and love of the game from the photo — which Stan turned into an amazing custom card.
There are still Danny Litwhiler-ish men from baseball's past out there. Do your homework, and you'll find men whose biggest victories never fit into a box score.
Coming Thursday: Awesome insights from Twins outfielder Steve Brye.