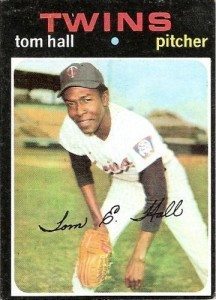 Tom still has "thin and sharp"
handwriting today! I found
this gem on twinscards.com.
It's a must-stop for Twins fans.
Where have all the nicknames gone?
I remember the late, great Ernie Harwell saying that he believed that a shortened last name, something like "Higgy" for Bobby Higginson, didn't compare to baseball's greatest nicknames.
That was one reason I wrote to Tom Hall. His "Blade" nickname seemed like something Marvel Comics invented. Interestingly, it took just one teammate to create such a title. Hall explained:
"Bob Allison gave me that name when I was with the Twins in 1969. He said 'I was so thin and sharp on the mound.'"
That same year, on Aug. 24, Hall twirled a four-hit masterpiece at home against the Yankees. What made that win memorable?
"Being able to go 9 innings as a relief pitcher."
Never before had I asked a former player about his first highlight, just getting signed to a pro contract. I'm glad I quizzed Hall. He remembered:
"Jess Flores scouted and signed me in 1966. My mom and dad were present at the signing. It was very exciting. Yes, I did get a signing bonus, nothing like today."
He concluded his generous letter not with an autograph, but a smiley face exclamation. I like to think of it as The Blade's self-portrait.
Coming Wednesday: Beyond the stats of Danny Litwhiler.