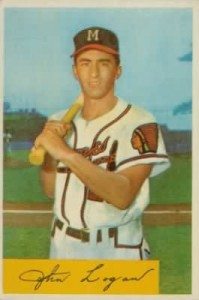 1954 Bowman
From baseball address king Harvey Meiselman comes news of an autograph fee.
Former Milwaukee Braves shortstop Johnny Logan wants $5 (cash) per signature by mail.
Logan is 85 years old. He's been a fast, dependable signer by mail beforehand. The stats on http://www.sportscollectors.net/ are stunning — 273 successes in 280 requests. Why demand money now?
Illness could be an explanation. However, I see another possibility.
Virtually all the responses came in just 1-2 weeks. Logan seems like a same-day signer. Is that because he's seen signing autographs as more of a duty than an enjoyment?
I think signing has become a chore for Logan. Being paid for "work" makes the situation tolerable.
Some retirees wonder if they truly matter to today's collectors, many of whom weren't born when the player last competed. I hope this isn't Logan's case, too.
For a great profile of Johnny Logan, check out this feature by acclaimed Braves historian Bob Buege on the SABR Bio Project website. Bob was the source who confirmed that Johnny fudged his birthdate by one year.