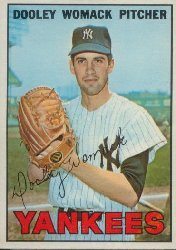 His "D" still breaks
like a sharp curveball!
Pitcher Dooley Womack is like a superhero. Different name, different person.
For elementary-schooler me, I thought the name sounded like a movie star cowboy. When I found out he pitched for a team in Texas, it made even more sense.
I asked the hurler how he went from his birth name to DOOLEY. He replied:
"Horace Guy Womack is my given name. 'Dooley' is a nickname. When I reported to spring training in 1966, the reporters wanted to know which name I wanted to be called. I told them, 'Dooley.' I told them that Horace was a guy in a three-piece suite, dark horn-rimmed glasses, briefcase and umbrella. I've articles written about my name. In school I was Horace. In sports, I was Dooley."
How did that spring training turn out, by the way? Womack added:
"When we left spring training, headed to New York, I was happy to have made the team after eight years in the minors. When we arrived at Yankee Stadium, instead of going in the clubhouse, I turned right, down the long tunnel to the dugout. I stood on the top stair and said, 'I finally made it to the House That Ruth Built,' whether it be for 30 days or longer.


The stadium was old, but you could feel the History.


Mantle's 500th homer won the game for me. I pitched 3-1/3 innings in relief. Back then, we went as far as we could. I started the last triple play in the old stadium — Womack to Cox to Mantle. It lasted for 42 years, until last year in Oakland."
Our friends at Baseball Almanac.com share this box score!
Coming Thursday: The record Womack helped set in Houston, along with the prize he did NOT receive.