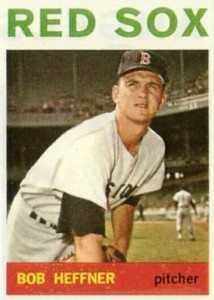 Face of a Yankee tamer!
Pitcher Bob Heffner found two reasons to celebrate on Aug. 21, 1964.
Before a grateful Fenway Park Crowd of 28,830, Heffner tamed the rival New York Yankees. It wasn't an ordinary win, nor was it an average day. As Heffner wrote…
"My 6-hit shutout over the Yankees in 1964 was on my baby daughter's first birthday. The rivalry between the new York Yankees and the Boston Red Sox in 1964 was just as intense as it is today."
(Thanks for the details, http://www.retrosheet.org/!)
Heffner's first celebration as a Red Sox came in 1963. He remembered:
"I learned I got my first start in the major leagues when I arrived in Boston from the AAA Seattle Rainiers club. My father flew in from Allentown and we celebrated after the win with a cold beer."
That same year, Heffner became only the second major league pitcher ever to record three putouts in an inning. What does Heffner recall of that history from June 28, 1963?
"Regarding my record three putouts in one inning in 1963, all the balls were hit toward the first baseman. In spring training, we were always told to cover first base."
Baseball fundamentals make history? Stranger things have happened.
Coming Monday: a moment with Yankee pitcher Johnny Kucks.