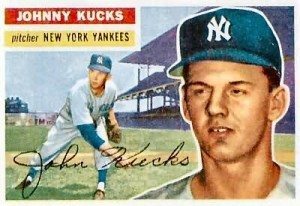 Does that look like a sidearmer to you?
Kucks has kept that ornate sidearm signature!
One new baseball term I'm abuzz over is "pitch to contact."
I've known people who TALK to contact. They get the job done quickly.
Yankees Pitcher Johnny Kucks might qualify on both counts.
I asked about his masterful performance in Game 7 of the 1956 World Series, the culmination of his 18-win season. (Thanks to http://www.retrosheet.org/, here it is!)
A box score can't tell when a winning pitcher may have been a bit nervous. I asked Kucks for a tense moment from that title-clinching victory:
"First inning 2 men on, Robinson hit into double play."
As in JACKIE Robinson! Who'd pass up a chance of bragging explicitly about the future Hall of Famer he outmatched?
I've checked out Kucks' baseball cards for hints about his motion. I've seen him described as a sidearmer. However, I wasn't sure if he go three-quarters if needed. Or, did a coach tinker with his delivery?
"Always threw sidearm."
Kucks showed with his final answer that he isn't a chest-thumping, muscle-flexing veteran. After 19 wins in his first pro season, Kucks lost two seasons to military service. Thankfully, a ticket to the show awaited him upon his return in 1955. Regrets?
"Everything went well on career delay.

Best wishes,
Johnny Kucks"
Coming Tuesday: Two reluctant Redbirds, and other blog updates!