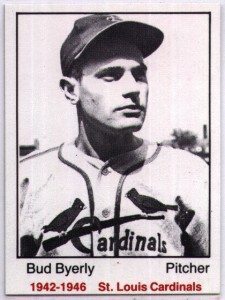 Kudos to the site
http://www.krispaulw.com/ for sharing
this great 1983 TCMA card. I remember
retirees in the 1980s loving
to sign such obscure images.
Numbers tell only part of the story. Stats are limited.
Eldred "Bud" Byerly was born Oct. 26, 1920 in Webster Groves, Missouri. What do you ask a 90-year-old former pitcher? I wanted to know how it felt to debut for the nearby Cardinals in 1943, then participate in a World Series championship a year later.
Byerly responded:
"The Cardinals were my favorite team and Dizzy Dean was my idol.

So living in in St. Louis was great.

A couple dozen friends and family attended the games."
Coming Thursday: Thoughts on finding baseball addresses on your own.