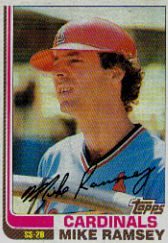 "SS-2B"? The card should
have read: Comfortable
at everything but
P and C
I loved the look of Mike Ramsey. Like a super-hero, he'd appear anywhere he was needed. In the midst of that super-subbing, he had a few moments in the spotlight.
Take June 3, 1980 versus the Mets — three singles and a double, with three runs scored. He recalled:
"The best part of the 4-hit night was that it helped a Cardinal victory. It also solidified my spot on the team and was part of a modest hit streak I was on."
Ramsey humbled a future Hall of Famer July 25, 1982. In front of a home crowd, Ramsey's three-run homer made the difference in a 4-3 win against Don Sutton. (Thanks for the flashback, http://www.retrosheet.org/!) I asked for HR details, and insight into whether Sutton threw illegal pitches. Years earlier, Lew Burdette told me that just the thought of being a spitballer was enough to conquer some hitters. Ramsey added:

"The pitch: a 3-1 fastball inside. We knew he did something to baseballs, but it wasn't saliva, but rather he scuffed them with something. Still, he was a great pitcher without the extra help."
I asked this super-sub and ultimate team player if he ever faced the prospect of pitching or catching in a pinch.

"Only 7 positions would I have been comfortable playing. I was never asked to catch and that would have been most difficult for me."
I don't believe it. Clark Kent, not Superman, answered that question. I think that if Whitey Herzog called today, you'd see the wild-haired utilityman behind the plate or on the mound.