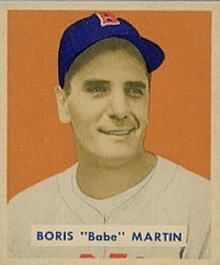 For years, Martin has signed
with both names for this card!
Boris "Babe" Martin proved my theory.
If you want to get a rise out of a former player, go deep.
Getting deep is another story. I'm talking long-balls, dingers…homers!
Martin had two in his career. He wrote:
"Homer off Allen Gettel was a home run right on the line and off the handle of my bat, only about 295 feet.
Homer #2 was really a long one in left center field just ot the left of the bullpen, and I would say close to 400 feet. I forgot the name of the pitcher. Thanks for asking.
Sincerely,
Babe Martin"
Thankfully, http://www.retrosheet.org/ remembers. Good job, guys! Martin connected off Hank Borowy, who won 21 games that year. Both homers were off Yankee hurlers in Yankee Stadium in 1945.
Enjoy this superb SABR biography of Martin by noted researcher Bill Nowlin.