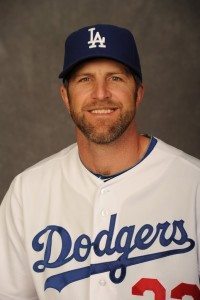 (Courtesy of Mark Langill &
Los Angeles Dodgers)
I want to go to bat for Casey Blake.
The Wall Street Journal did a snarky study, creating an opportunity to downplay Blake's offensive stats. He wound up getting dubbed "The Most Perfectly Ordinary Hitter."
Not fair. I fear a fan might think the numbers-crunching reflects Blake The Person. I spent an hour with Casey Blake once. I saw him come through in the clutch.
Years ago, when Blake was a Cleveland mainstay, he returned to his native Indianola (Iowa) for an elementary school PTA reading night. As a children's author with some baseball non-fiction titles, I got invited to share a classroom with the third baseman and Cubbie Bear, the Iowa Cubs mascot.
We took turns reading Casey at the Bat while Cubbie mimed the action.
I watched as a guy in his late 20s with his son appeared. Did Casey remember playing high school baseball against the guy? Qualifying for a best actor nomination, Blake smiled and nodded. The guy mentioned that he thought Casey and his school lost. I was guessing that half the people in Iowa were eager to claim that they struck out a future major leaguer.
After our poetry performance, the son of the high school acquaintance raised his hand for a question.
"Casey, who was the toughest pitcher you've ever seen?"
Automatically, Casey spun a tale about submariner Chad Bradford, saying that the hurler's knuckles dragged on the ground after pitches.
"But in high school," Casey added, "it was your Dad."
The boy gasped. He looked anew at his father, someone clad in a worn T-shirt after a day at the factory. A son looked at his dad with new eyes. I watched as the man's lip quivered. He choked back tears.
The pair lined up for an autograph after the session.
"Thanks, Casey," the boy chimed. He handed the ball to his dad, then looked like he might ask his father to autograph the ball, too.
The man whispered a second thanks. Two lives were changed in Blake's single sentence.
Casey Blake refused my praise when the classroom cleared. I pointed out the heroic act, but he'd hear none of it. He shrugged, chuckled and excused himself to sign more autographs for shouting kids down the hall.
Let's see the Wall Street Journal and other doubting media create a stat to reflect fans befriended. If so, Casey Blake would be a league leader. That's the play I want to see on a highlights reel.