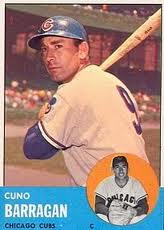 Barragan has written
other collectors that he
prefers this to the 1962.
Any guesses why?
If you want to know what might have been in baseball, don't depend on the sportswriters. Ask a teammate.
I asked Cuno Barragan, a Cubs catcher from 1961-63, what his impressions of Ken Hubbs were. He responded:

"Ken Hubbs was signed as a shortstop, but with Ernie Banks, they moved him to second baseball. With his youth and range, he was outstanding!"
I asked about Sept. 1, 1961, playing at Wrigley Field. Barragan hit his first major league homer.
"I hit a fastball off left-hander Dick LeMay (Giants). It just made it into left center field bleacher. I thought it was a double. Then I saw the umpire signal home run! Glen Hobbie (pitcher) was the next hitter."
Two interesting details Barragan left out:
1. It was his major league debut.
2. It was his first-ever at-bat!
Don't think that Barragan is a "rose-colored glasses" alum for the Cubbies. What did he think of the team's managing while he was up?
"College of Coaches was the worst thing that ever happened. Baseball is managed by an individual who in his estimation plays the best nine players he thinks he can win games with.

College of Coaches failed! [Yes, Mister B did the underlining himself…]"
Tomorrow: Remembering Harmon Killebrew