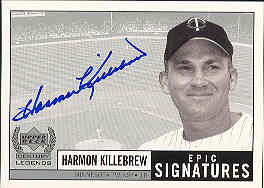 Upper Deck hit a home run with this insert set!
Say AMEN somebody!!!
He never was "H —– K——–."
Even more, Harmon Killebrew felt everyone else should give full-name autographs. Remember, this wasn't an "Ed Ott" lecturing current players. This was the 15-letter man, someone who had walked the walk for decades of spelling out every last bit of his lengthy name.
I loved the FOX Sports article. We need more reporters like Tyler Mason who'll salute respectful hobby HOFers while shaming the slothful superstars.
Coming Monday: Will the Cardinals break my mail slump?