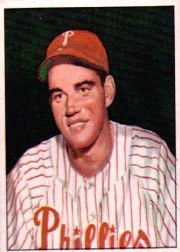 Rookie of the…Me?
The 1950 Phillies "Whiz Kids" team lives on in the minds and hearts of fans and collectors, thanks to proud alums like pitcher Bob Miller, who furnished a kind reply to my questions.
First, I wanted to ask if he ever imagined himself going to the World Series in his first full year.
"Dear Tom,

From the first day of spring training, we thought we could win the pennant."
I asked how he felt about the results of the 1950 National League Rookie of the Year balloting. The 11-game winner finished second in votes to Boston Brave Sam Jethroe. This answer floored me.
"I was never informed that I finished second in the voting. I found out about two years later."
Today, agents would have incentive clauses getting bonuses for a player who finished so high in the vote totals.
Lastly, I thought I'd point out that I knew WHICH pitcher Bob Miller I was addressing. I asked Robert John Miller for examples of getting mixed up with the other two "pitcher Bob Miller" late arrivals.
"Yes, I met both Bob Millers. They became good friends.

Thanks for the nice letter.

Bob Miller
1950 Whiz Kids"