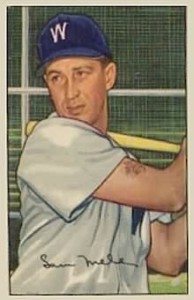 Tattoo, or did Mele catch
a fastball on the bicep?
Sam Mele was Minnesota's first Tom Kelly. Manager Mele turned the Twins into near World Champions in 1965.
I asked him when his thoughts changed from "good team" to "World Series bound." He replied:
"Had a series with the White Sox and beat them. That gave us the lead."
Mele's baseball bloodline can be traced to Uncle Tony Cuccinello. I asked what special education he received as a nephew.
"All the fundamentals of baseball."
Mele's fame as Minnesota skipper followed a tidy 10-year career as a hard-working outfielder. His headline-grabbing moment as a hitter came in 1953, compiling a 22-game hitting streak.
I asked if there was one toughest game in which his streak was in doubt.
"Facing Yankee pitcher Allie Reynolds."
A full look at Mele's life in baseball is provided by writer Bill Nowlin's wonderful biography, found on the SABR website.