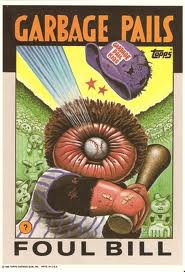 Who'd Autograph This?
Some former players take it out on us.
Why would you want them to autograph card picturing them on THAT team? It gives them a chance to tell about the grudge they still hold.
In the 1980s, Astros slugger Glenn Davis was different.
The outspoken Christian was upset with Topps producing Garbage Pail Kids cards. In protest, he vowed not to autograph any of his Topps-made cards.
I wondered how collectors were supposed to make his case in front of Topps executives.
During my SCD days, I found Davis on the field readying for batting practice at Dodger Stadium.
"We've worked things out with Topps," he said. "I'll be signing again."
Davis had tried to recruit other Christian players into his autograph boycott. I think Tommy Herr might have participated?
Sadly, Davis hasn't been signing by mail for years.
Good luck to all the set collectors. I'm expecting more of these autograph protests in the future.