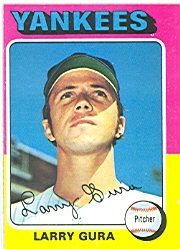 The sig stands tall!
Gura is still looking up.
For 16 seasons, pitcher Larry Gura faced down future Hall of Fame hitters. None of these sluggers may rival Gura's toughest foe yet:
Real estate developers.
Gura asks a $2 donation per autograph, with checks payable to Dale Creek Equestrian Village. Wanting the rest of the story, I dialed the Village number.
Returning my call was Cindy Gura, Larry's wife.
This is the family farm where Cindy grew up. When her parents died in 2000-2001, Cindy and Larry took over the operation.
"We have a therapeutic riding program," she said. "A charter high school comes here weekly for equine classes."
At Dale Creek, the Guras grow and sell organic food. They have a citrus grove and mesquite trees, complemented by a booming garden. Don't forget the cage-free eggs from the happiest chickens in Arizona.
The trouble is, cash doesn't grow on trees.
"We needed more money," Cindy said, explaining the $2 per autograph policy. "We're trying to protect this open space. We had to preserve it."
These days, Larry Gura is pitching to protect a farm that's been in the family more than 60 years. Although housing developments loom on all sides, the Village isn't surrendering yet.
Is the former pitcher riding horses?
"He just rides a tractor," Cindy said with a laugh. "He helps with riding lessons, he gardens. He built all the chicken coops. He's very busy."
But not too busy for fans. "Please keep writing," she asks collectors. "He'll sign for everyone. We enjoy every letter."
To obtain a Larry Gura autograph, send $2 for each item to be signed (checks payable to Dale Creek Equestrian Village) with a SASE to:
Larry Gura
P.O. Box 94
Litchfield Park, AZ 85340