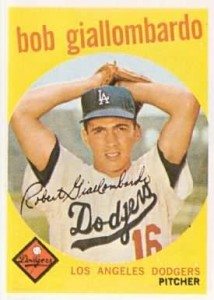 Appreciate the facsimile sig.
This cup-of-coffee pitcher
now demands more than
$2 per letter for his last name!
When in doubt, ASK!
One of the great parts of this hobby is knowing that veteran collectors will share their experiences with you. I called upon hobby veteran Rich Hanson for his impressions of former players charging for their autographs. I'm grateful for his words of wisdom:
"What do I look for in deciding whether to pay for a signature? How tough the signer is otherwise, and how reasonable the fee is.



One can find some good bargains in Harvey Meiselman's list of signers. HOFer Don Sutton @$5 a card, Reggie Cleveland and Kevin Elster @ $1 a card, Larry Gura $2 per.

I've never had a problem sending cash by mail, but I don't send large amounts. Anything bigger merits a money order or check if they'll accept it.

I weigh the price on the player and how bad I want him in my collection. Quite a few years ago I paid $5 each for two Dom Zanni autographs. Now he's charging $30. Now I'd pass.

Even worse is Bob Giallombardo's $25 (double his amount of major league games, and Bob Allen's $100 fee to sign a card (postal money order only). This is either a joke gone awry or an extremely unrealistic request.

I can buy three Nolan Ryan signatures for what he's charging."
Tomorrow: The amazing mission of pitcher Larry Gura!