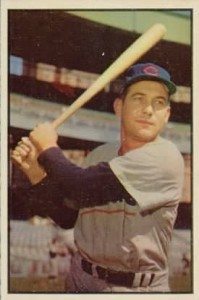 Would Addis pound his head
in frustration after struggling
to get a raise from the
1953 Cubs?
I learned that Bob Addis became a school teacher after his short playing career.
His reply to me contained an eye-opening history lesson.
I asked about his first-ever homer off don Newcombe (Sept. 26, 1951), or his big three-run blast off ace reliever Joe Black (June 18, 1952). Who wouldn't enjoy recalling showcases against celebrated Dodger foes?
Instead, Addis chose to address his first career.

"I truly enjoyed my playing days. The problem was only one National and one American League (teams).

Too many great players and not enough teams.

Today the opposite — too many teams and not enough good players.

Players were slaves when I played. No way to get a raise. Ted Williams only made $100,000. Today the minimum is $400,000.

I hit .295 for the Cubs in 1952. Wanted a $1,000 raise. I was told to sign the contract and report for spring training if I wanted to play baseball."
Tomorrow: Pitcher Frank Carpin's day versus Sandy Koufax.