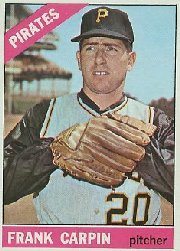 "Take that, Yankees!"
A short but intriguing response arrived from pitcher Frank Carpin.
After seeing Carpin's first-ever win, May 25, 1965, versus the Cubs (courtesy of http://www.retrosheet.org/), I asked for any memory of that milestone. Seems like it was just an afterglow.
"Second night I got a win. AAA previous night (Toledo). Against former Yankee teammates."
I noted that on July 11, 1965, he beat the Dodgers with three shutout innings in front of the Forbes Field faithful.
"Struck out Sandy Koufax in that game. Fortunately didn't have to hit off him."

A great biography of the overlooked pitcher has been penned by "Dan," an impressive blogger at New Jersey Baseball.