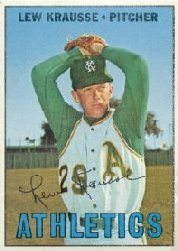 Lew still has that
ornate "L" in his sig!
Same name.
Both pitchers.
Both Athletics.
Like father, like son.
The second Lew Krausse enjoyed a longer career than Dad. I asked if Lew's father (who died in 1988) ever got to attend.
"Yes, he was at my first game and many more."
Krausse bypassed an invitation to brag, when I asked for details on any of his six home runs.
"I think the first was the most memorable."
With thanks to http://www.retrosheet.org/, I see that Krausse is referring to a blast off White Sox pitcher Jim O'Toole July 22, 1967.
Milwaukee fans remember Krausse as the team's 1970 Opening Day pitcher. The Brewers had him back in 2010 for a 40th anniversary celebration. Memories of 1970?

"It was difficult being on an expansion team."
I didn't ask about his greatest achievement as a player, but Lew added this career reflection:
"It was a great experience. I met my wife on a flight."
Tomorrow: Speaking of Jim O'Toole, enjoy the Reds Hall of Famer's memory of announcer Waite Hoyt!