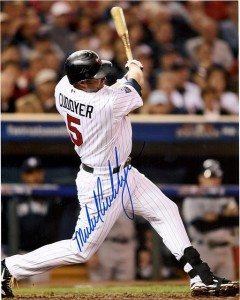 He may sign a lot more photos, but
he'll never know how special
this one is!
Congrats to Dan Cote of the blog "Signed D.C.". His Michael Cuddyer photo may be worth more than any autograph the Twin will ever sign.
Worth more to Dan, that is.
I love the story of why Dan wanted the autograph. Someday, I'm hoping Dan gets a personalized signature for his daughter. Someday, I'm hoping Mister C learns this whole great story.
I encourage Dan to keep the tale of Charlotte's birth next to the photo. Together, they're worth more than any price guide can calculate.
Think this is a good hobby? Try sharing it with someone else and watch that good turn into GREAT.