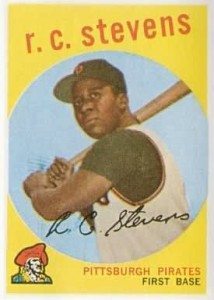 Veteran Collectors and
One Kind Teammate Helped
Me Get This Once-Shy Signer
in the 1970s
My, how by-mail autograph collecting has changed in almost 40 years!
I wanted to share a short tale of how the hobby used to be. As a beginner, I asked questions. One collector named Gene Leggett seemed impressed that I wanted to write to retired players.
"Bob Oldis and R.C. Stevens were teammates on the 1960 Pirates. Look Oldis up in your Smalling address list. He's kept in touch with Stevens, who's retired in Iowa, too," I seem to remember him saying. "Write a nice letter to Oldis. Ask for his help in getting a Stevens autograph. R.C. hasn't answered fan mail at his address. Enclose a self-addressed, stamped envelope for each."
Sure enough, it worked!
Oddly, Stevens became a decent, consistent signer in the last years before his 2010 death.
I was years ahead of other collectors.
I've never imposed on a retired player again. But I wrote a thank-you to Oldis.
I'm not telling this story to encourage hobbyists to try to take advantage of today's retirees. The message I do want to share?
GIVE
then
RECEIVE
Before I asked other Iowa collectors who I should write to, I volunteered that I could tell them who had signed for me. With my tiny bit of collecting knowledge, I proved that I would share any autograph possibilities with others. The veteran collectors remembered that someone helped them get started once, too.