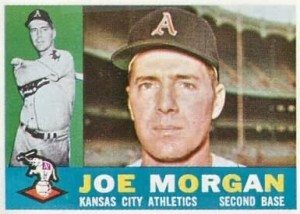 "Yankee Stadium foul pole? But I'm from Walpole, Mass!"
Red Sox manager Joe Morgan enjoyed a life in baseball long before taking Boston's helm in 1988.
In fact, the native of Walpole, Massachusetts made his Fenway Park premiere nearly 30 years prior. Best of all, he had lots of witnesses!
"Only appeared in one game at Fenway Park as a pinch hitter with Kansas City A's.

Hit triple off the Green Monster with 20 Walpole fans present."
I'm grateful to share the magic of http://www.retrosheet.org/ to recreate that moment. At least, the game elements. Morgan never noted if he was shining before parents, immediate family, classmates or all of the above! Seeing a "local boy" succeed that day must have been memorable, even for Red Sox rooters.
Morgan started his second baseball climb after his retirement as a player in 1964. (One feature profiled noted that Morgan kept his off-season job as snowplow operator during those lean years.) Many more seasons managing in the minors preceded his Red Sox skipperdom. Did he have any prize pupils in the minors?

"Helped many players, such as Al Oliver, Rich Hebner, John Morlan, Don Money, as very young players by building their confidence. That's all they needed."
Tomorrow: Did Hall of Famer Joe Morgan ever recruit a famous ghost signer? Prepare for some hobby intrigue…