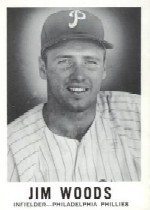 Baseball begins at birth.
Chicago native Jim Woods appeared in just two games for the 1957 Cubs. Still, that's better than no games for the millions of Chicago fans who dreamed of even one day appearing in uniform at Wrigley Field.
"Yes, I felt great being a Chicago boy and signing with the Cubs.

You see, they TRADED ME a few years later and WHAT do you think a Chicago boy felt?

But they had a Ron Santo there? Ha Ha."
Woods didn't note that he was an extra temptation added to the package sent to Philadelphia to acquire Phils legend Richie Ashburn.
Seeing that Woods hit three career homers, it's impressive to note that he collected two off Pittsburgh's Bob Friend. He noted:
"I DO NOT remember homer #2 off Bob Friend, why, I do not know. But #1, I HAVE THE BALL, since 9/20/60."
Lastly, here's a question I'll be asking more often: Who was your roommate, and what was the most fun the two of you ever had on the road? From Woods, the query brought a heart-warming reply:
"Chris Short, a left-handed pitcher, was my roommate and I fixed him up with my sister on one visit to Chicago and visited my dad's bar. He was a bartender, great days.

P.S. – I DO NOT DRINK

Thanks, Tom

Jim Woods"
Tomorrow: Surprising insights from Red Sox manager "The Other" Joe Morgan