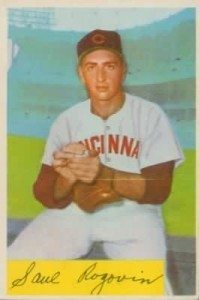 Collect your teacher's autograph!
Saul Rogovin became a star after his playing career.
He became a teacher. Forget his stats. Read Ralph Berger's stirring profile (linked above) from the SABR Bio Project. Rogovin started his education career at age 51, serving students for 12 years. The feature says that Rogovin had to produce his baseball card to convince classes of his earlier career!
One of the most eloquent replies I've received came from former Cub Ed Mayer. Mayer taught for 25 years after his pitching days ended.
That's what led me to seek out more players-turned-teachers to contact.
Here's my magnificent seven from the past week:
Dave Fleming
Rich Beck
Don Wengert
Ford "Moon" Mullen
Bob Lacey
Jeff Keener
Jim Morris
Who would you add to this list? Yes, I'll write them, too. Teachers are my heroes. If you serve a classroom (or more), you have my thanks and admiration. In my eyes, you'll always be an all-star.