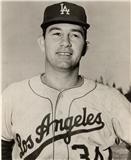 Courtesy Mark Langill,
Los Angeles Dodgers
Catcher Norm Sherry dared to dream.
Making the majors? Playing (and winning) a World Series?
It's enough to wish big for yourself. To be a kid who dreams that same dream for someone else — then sees it come true, times two? There's no baseball statistic able to measure such a victory.
When I wrote to Norm Sherry, the ultimate prize I envisioned for him was sharing those dreams with a special teammate: brother Larry Sherry (Most Valuable Player of the 1959 World Series.)
Sherry confirmed that, writing:
"Being on the same team with my brother was a very big thrill. As kids, we played baseball all the time and always hoped we could some day play in the Big Leagues and be on the same team."
The ultimate expression of that joy might have occurred on May 7, 1960. Sherry smacked a two-out walk-off homer to give his Dodgers an extra-inning win in front of a grateful home crowd at the Memorial Coliseum. This was Sherry's first career four-bagger. If that wasn't enough, the home run gave the victory to his batterymate: brother Larry! (Thanks for the memory, http://www.retrosheet.org/.)
Tomorrow: Sherry shares two good days against one Hall of Famer, then remembers three team owner bosses.