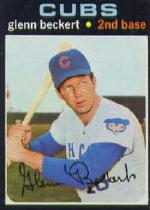 Got a 'graph,
hoped for more!
Two Cubs have been speed bumps in my TTM hobby this month.
Glenn Beckert was the first. I swung for the fences with "Beck." After the death of Ron Santo, I wanted to see if his roommate and close friend had any memories to share. Specifically, I asked about his support after Santo's parents died in a spring training car accident.
I've seen on http://www.sportscollectors.net/ that Beckert has taken up to two years for some responses. I heard from him in less than two weeks.
His huge, flowing signature on the letter read:
Glenn Beckert #18
4-Time All-Star
1968 Gold Glove
I'm sad to say, no mention was made of Ron Santo.
Secondly, I heard from Jim King, the outfielder who played 1955-67. He returned my letter, as well as the stationery I included for his reply. Both had his autograph. Nothing else.
For those of you just tuning in, here's my game plan. I do NOT ask for an autograph. I do not enclose a photo, card or index card. I make it clear that I've studied up on a player's career. Then, I ask three questions. That's all.
Home run kings strike out. Sometimes, they struck out A LOT. I chose to swing for the fences with Beckert, instead of lobbing him a softball question like "What was your greatest thrill?" Other times, I'll reach aging retirees not healthy enough to respond. Or, a person won't want to relive their baseball memories.
I only count my hits, not my outs. That's what a batting average is. Onward!