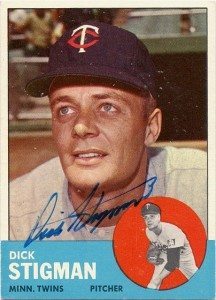 The First TTM autograph
Daniel received after the
October birth of his child.
Double congrats!
There are hobby role models out there.
I just found a swell blog by Daniel Cote:
I love the guy's mission statement, telling how he started collecting as a kid in the 1980s. However, because the collection didn't have a lot of sentiment attached to it, he sold much of it on ebay. Daniel adds:
"Now, I have decided to start again. This time around, no filler. I'm only sending requests to players who I want to add to my personal collection. That means there will be a big focus on Minnesota Twins and North Stars, as well as other Minnesota-born and affiliated athletes. This blog will chronicle my successes."
Daniel has harnessed one of the most powerful words in the hobby.
WHY
Keeping this in mind, he'll be sure to have lasting fun this time around. Most importantly, I think he'll get more autographs by mail. I think all collectors should have at least one sentence in their autograph request letter. Something like:
I'm writing to you because ______________________.
Only you can fill in that blank. Daniel is finding Minnesota natives, Twins farmhands with obscure minor league cards — all the signers that would matter the most to HIM. He's thrown in a few fun names from his youth, such as pitcher Brian Barnes. Someone stocked up on Barnes rookie cards once, thinking the Expo would be the next big thing. I think Barnes would have loved a letter knowing that someone believed so much in him!
I've seen that Daniel's slipping a question into some letters. You never know until you try!
I wish Daniel Cote lots of fun in his second hobby go-round. Sharing his TTM exploits with others will be a good guarantee to make this collection one for the ages.