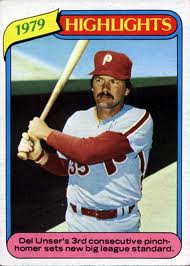 "Then look for it!"
Was Del Unser a born pinch-hitter?
I love http://www.retrosheet.org/. Looking there at Unser's top performances, I see that he spread his 87 career homers out evenly — 87 different games!
Phillies fans remember the key roles he played in the team's 1980 World Series championship. However, Unser flashed the under-pressure tools in 1979, coming off the bench when it mattered most.
How did he manage three consecutive pinch-hit homers? Unser replied:

"All were at the end of games. You have to know what pitch a pitcher is willing to get beat with. Then look for it!"

A father who caught in the 1940s. A brother who played minor league ball. Unser lived the game.

"I grew up in baseball — it seemed natural to play; but we had very exciting moments and a lot of disappointments.

Family is my greatest achievement by far!"
Tomorrow: a Twins fan collects with his heart.