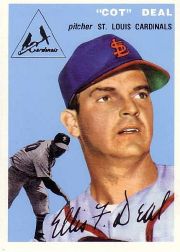 Catch "Cot" in the
1994 Topps Archives.
His Sig Still Sparkles!
Am I waving the white flag as a collector?
Not quite. I still crave quality responses from former players. This month, I'll be sharing those, too. However, I'm beginning 2011 by appreciating the letter I send, too.
I wrote to Ellis "Cot" Deal, nicknamed for his cotton-top hair. Including his signature, I received just 20 words back. No complete sentences. Nevertheless, I was so pleased that he responded over the holiday break. He'll be 88 on Jan. 23.
Most of all, I wanted to send my thanks to Cot. He's a World War II veteran. Plus, he's survived prostate cancer. Two inspirations.
"Thanks, Tom."
I asked about his 1954 victory against the Cincinnati Reds. In that 14-12 slugfest, the pitcher collected two RBI to make the difference. What did he remember?
"The double I hit."
In more than a decade as a major league pitching coach, I was sure Cot would have a favorite accomplishment. Sounding like a political candidate, he replied gently with his greatest pleasure of that tenure:
"Having so many proteges."
He knew Fred Hutchison as a teammate and boss. If "Hutch" hadn't been taken so early by cancer, what kind of managerial career could Cot have foreseen for his friend?
"The best."
I enclosed a second piece of stationery as usual. This allows the former player not to try writing microscopically in the margins. When I noted that I'd like to know any of Cot's thoughts about 48 years in pro ball, he responded:
"Too many, Tom.
Good luck, Tom —


Cot Deal"
What lessons did I learn from this letter? I believe that some retirees will always attempt to offer same-day responses to fan mail. When someone is facing an 88th birthday, their urge for speed might grow. No problem. I like to think of Mr. Deal sitting in his Oklahoma apartment, admiring that stationery I made for him, printing out his career in a one-paragraph series of headlines atop the page. I consider it his first birthday present. He can spend the winter pondering what memories he'd choose to fill that page. It can be a letter to himself.
One of my favorite sites, Baseball Almanac, relied on Pat Doyle to glean more answers from Cot Deal.