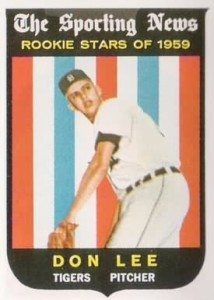 Don Lee made use of some unique advice when following in father's footsteps. Lee pitched from 1957-66. He chose the family business of sorts, picking his pa's profession. Father Thornton Lee, a 22-game winner for the 1941 White Sox, was the voice of experience.
"Dad always said 'throw strikes' and 'don't be afraid to hit someone.'"
Young Lee threw four shutouts during his decade in the majors. Which one was he proudest of?
"All of them, but Detroit, because they are the team I signed with."
(Flashback, 1962, courtesy http://www.retrosheet.org/.)
Lee won 11 games in 1962, dividing time between the Twins and Angels. I told him that he'd be awarded a multi-year contract extension for such achievement today. Back then?
"My contract was raised $1,500 per year! (For one year.)"
Any capsule biography loves to latch onto the fact that Ted Williams made history against the Lee family, homering against both father and son. Stats, however, note that "Teddy Ballgame" went a collective 2-for-7 against Don Lee (including that homer). Not too shabby against a Hall of Famer. Lee's look back?
"The game has changed so much it's hard to relate one time of playing against another. The players just don't compare."