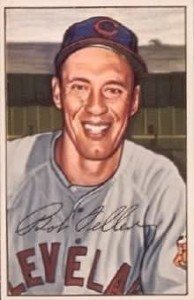 The autograph compacted over time,
but stayed amazingly legible!
One of Bob Feller's greatest moments in history shouldn't be forgotten.
I didn't retain all the details. The co-stars might like to be forgotten for their questionable roles in the incident. But I know that Feller put his legacy on the line one day for fans in Iowa.
A new museum honoring Iowa high school sports figures was beginning. A museum official traveled to Feller's Van Meter Museum to tape an interview.
The video crew waited. And waited. Feller wasn't ready to tape the segment.
He wasn't done taking care of everyone lined up for an autograph.
According to media reports, the interview producer became upset that Feller wasn't giving priority to the crew. Feller insisted that the fans should come first, refusing to cut the autograph session short. Obviously, the interviewer hadn't realized that Feller offered an interaction with each fan, not just a quick scribble.
That angered the interviewer, who stormed out of Van Meter. He reported back to the museum administrator, who told reporters that he'd make Feller "a footnote" in Iowa sports history.
Feller, sometimes gruff and always honest, never backed down. The high school sports staff later made up with Feller, who found a new time to tape the segment. Feller wasn't concerned about furthering his future reputation. He cared most about being hospitable to his own museum visitors, giving that day's fans their money's worth. Beyond statistics, Feller was a man worth meeting, an autograph worth cherishing.