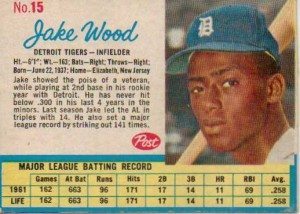 Did Jake Wood have to run?
The question took on new meaning as I perused the succinct reply to my letter. He answered my three questions in fast fashion, showing the same speed when he swiped 30 bases in his exciting 1961 rookie season.
In fact, I never pointed out why I wrote to him in the first place. I think, nearly 50 years ago, Detroit fans got a preview of someone with Lou Whitaker-level potential.
I asked Wood about his base-stealing style. Did he have the green light to run?
"It all depended upon the situation and the score of the game."
He remembered the look and feel of Tiger Stadium in one sentence:
"It was fan-friendly and all green background."
I thought his best response came in just two words. When I wanted highlights of his first-ever home run off Jim Perry, on April 11, 1961, in his MAJOR LEAGUE DEBUT Wood summed it up quickly:
"Total elation!!!"
Tomorrow: A Chicago Cub is banned from attending a club with his teammates. Not because of his race, but his religion.