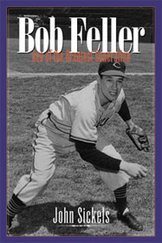 Worth finding and reading!
Fellow Iowan Bob Feller made headlines last week when he was moved from hospital to hospice care. Soon, the story snowballed into Feller's reported obituary. Not so fast, news vultures!
Back in the 1980s, I wrote to Feller, asking him if he'd provide me with an in-person interview at an upcoming hobby show.
I included a phone number.
He called me. Collect.
"This is Feller!" he boomed. He quizzed me about my letter, sounding wary.
I told him that if I'd be bothering him, he didn't need to schedule any time for me at the hobby show.
"If it was a bother, I wouldn't have called you!" In his conversation, it was all fastballs.
When his obit made print prematurely, I wondered what the straightforward Feller would have said about reporters trying to do him in.
I e-mailed John Sickels, author of a fantastic 2004 biography of Feller. What does he think the HOFer would have said over the misguided media?
"LOL…oh, that's a good question. He'd probably say something like "I'm not going down without a fight, the Japanese didn't get me and this won't either.
Bob Feller endures!