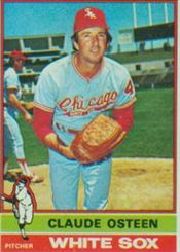 "Let me hit, Chuck, puleeze!"
Claude Osteen finished his career overlooked by "progress."
When he moved to the American League in 1975, he could put his feet up. No more hitting worries. That's what the designated hitter did.
Osteen didn't see it that way! He wrote:
"I loved hitting, thought of myself as a good hitter. I took pride in it and worked on hitting a lot.

I did not like the DH because usually I would be responsible, either directly or indirectly with my bat, in five extra wins per year. Directly meaning, driving in the run. Indirectly meaning, bunting the runner into scoring position or advancing the runners via hit and run."
Check out his lifetime batting stats. More than 200 career hits. The walks he drew. The sacrifice bunts. The White Sox never gave him even one chance at the plate. If manager Chuck Tanner had known! I think today's managers would keep Claude busy as a pinch-hitter.
Tomorrow: my memories of Seattle's Dave Niehaus