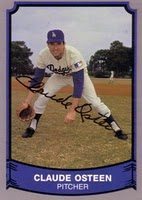 Osteen's classic pose,
year after year!
 Who would have won this footrace: Willie Stargell or Claude Osteen?
Pitcher. Pinch-runner. They sound a bit related. And Claude did have two stolen bases in his previous 12 seasons.
Such mystery and spectacle surrounded the 1970 All-Star Game. Osteen remembered:
"A bit of trivia. I got into the '70 All-Star game as a pinch-runner for Willie Stargell, who had walked. I stayed in the game to pitch three shutout innings. One of my biggest thrills.

Gil Hodges used me a pinch-runner because he wanted the pitcher in that slot in the batting order."
Bashful Osteen never mentioned that his scoreless work in the 10th through 12th innings paved the way for the senior circuit's 5-4 win, crediting the Tennessee native with the victory.
Tomorrow: From moundsman to batsman — Claude Osteen challenges the DH rule.