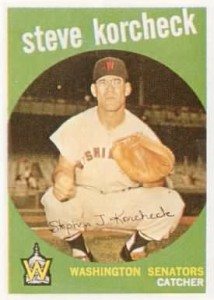 Same Artful Autograph!
College football star Steve "Hoss" Korcheck turned down the San Francisco 49ers for baseball. He wound up as a backup catcher for the 1950s Washington Senators. How did he choose his career? This mountain of a man offered a kind, thoughtful reply to my letter:
"I thought that I would have a longer career in baseball. Also looked at the long-term health of each sport, injury-wise and long-term effects."

Remarkably, he remembers his days in baseball in relatively-painless terms, writing:
"Two collisions that stand out — one with Jackie Brandt of the Baltimore Orioles and one with Hank Bauer of the New York Yankees. Pretty much injury free — a few broken fingers."
Korcheck, who praised the artistry of batterymates Jim Kaat, Pedro Ramos and Camilio Pascual during his tenure in D.C., reflected on his playing days and unique ties to this year's post-season rosters.
"Enjoyed my time in baseball. Enjoyed the atmosphere and the many friends that I made. Roomed with Ed Yost, whom I am in contact. My best friend became Jim Lemon, who passed away a few years ago.


After baseball, went back to school and obtained my doctorate degree in education. Taught and coach baseball for many years. Coached Ron Washington, manager of Texas Rangers and Sam Perlozzo, 3rd base coach of the Phillies.


Finished my educational career serving as president of Manatee Community College (now State College of Florida) for 17 years (1980-97).


Good luck and God bless,


Steve Korcheck"
JUST "a few broken fingers?" That's one huge optimist!