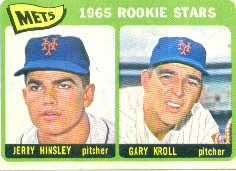 Don't believe everything you read.
Oops! I mean, don't believe what you read ELSEWHERE.
In the book The Ballplayers, pitcher Gary Kroll suffers from a biased bio note:
"As a nervous ML rookie, however, he committed a league-leading four balks in just 24 innings."
Hmmm…I wrote to Kroll, wanting his side of the story. He replied with some juicy insights, including:
"I was trying to use a move that Art Mahaffey used with great success, but it didn't work too good for me. Jocko Conlan was one of the umps that called a balk on me.

I said, 'Jocko, Drysdale (Don) uses the same move and you don't call a balk on him.'

He said, 'Yeah, but he does it faster.'

What!!! I think his name being Drysdale had something to do with him getting away with it."
I noted Kroll beat future Hall of Famer on April 18, 1965. Before a home Shea Stadium crowd, Kroll yielded just four hits while getting two of his own. His memories?
"It was raining and I was better than Gaylord that day, even though he had Mays and McCovey on his team. he tried to bust a couple of fastballs by me and I turned them around."
Kroll topped 300 strikeouts in one minor league season. He recalls his first K in the majors with an ironic footnote:
"Gordon Richardson with the Cardinals. The same Gordon Richardson that teamed up with me to no-hit the Pirates in the spring of '65. Go to www.metsnohitters.com website."
I closed my letter, stating:
"My 'career' ended in Little League. However, I can close my eyes and I'm back on the field again — like it was yesterday."
Kroll wrote…
"I know what you mean. So do I!"
Thanks to www.retrosheet.org for the game account!