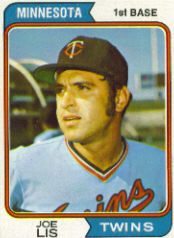 Filling in for Killebrew…
Joe Lis passed away October 17. The slugger who clubbed 236 minor league homers never found lasting opportunity in the majors.
A sporadic autograph signer after retirement, his ornate signature contradicted his short name. To his credit, I've never see "J– L–" autographs. When he signed, he REALLY signed.
Here's one bafflement that endures for me. I recall being in a scrum of in-person autograph collectors in the 1970s, awaiting the Twins upon their return to their Kansas City hotel. One veteran hobbyist talked of failing to get Lis to sign his 1971 Topps Rookie Stars card. Lis signed everything but that specimen.
"Later, someone told me Lis had a fight with Montanez," the collector shared, noting the other Phillie on the card. "The only way Lis'll sign it is if you cut Montanez off the card or doodle a mustache on Montanez."
I never tested the theory. Defiling a card for an autograph shocked and saddened me. However, I've never seen a MINT card autographed by Lis. Perhaps, he softened his stance in later years? I share this odd story as a bit of hope: any lesser-condition autographed 1971 Topps with a Lis signature may be real!
Meanwhile, here's the ultimate SABR biography of Lis, the slugger-turned-teacher.