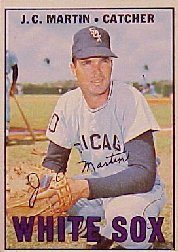 Is this the closest I'll
get to J.C.'s signature?
 I am the OH. Not the initial, but the rare hitless team member who did nothing in the one-sided victory. The box score is filled with crooked numbers for hits and runs scored. I'm nothing but zeroes.
J.C. Martin broke my eight-month winning streak. The letter got returned, along with the blank piece of stationery. First time! I've had a few players offer a consolation prize signature, instead of answering questions. Pitcher Gary Peters (Martin's teammate and alter ego on the 1960 Topps card!) wrote back, saying that he doesn't fill out questionnaires. Others will tackle their favorite of three questions. I'm grateful for any attempt at a reply.
My first thought? Martin is 73? Is he ill?
Maybe not. I checked the ever-helpful http://www.sportscollectors.net/. Martin had signed for 182 of 184 hobbyists writing to him, with replies received THIS WEEK! He's even added special, requested inscriptions like "1969 Miracle Mets." Collectors report he's signed as many as six cards per reply.
Additionally, Martin is far from another silent Steve Carlton or George Hendrick. J.C. gave an impressive interview to Baseball Almanac.
And, for the record, I never quizzed him on that 1969 World Series bunt controversy.
I try to learn from every attempt. I keep sending a letter a day. Daily, I seek new ways to beef up my pitch to former players. Meanwhile, I'll count my hits, not my misses.