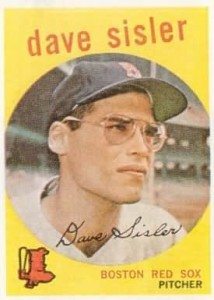 Pitcher Dave Sisler defied 1950s norms. More than one reporter chose to describe him as a bespectacled Princeton grad. The former hurler (who, says my wife, had a Clark Kent look going with his dignified glasses) provided some short, sweet answers to his tidy career.
In 1956 at Yankee Stadium, Sisler crafted a 10-inning win against Boston's arch rivals. Judging from Sisler's upper case reply, it must have been a good day spanking the Yanks.
"LOVED THE WHOLE THING. Made me 9 and 8."
Sisler's 1958 shutout versus Detroit, outdistancing future Hall of Famer Jim Bunning in front of the Fenway Park faithful…was that his sharpest game ever?
"No. Pitched a near no-hitter in Cleveland."
(True story. See the details, thanks to http://www.retrosheet.org/!)
As an eight-year-old attendee at that fabled 1939 induction ceremony in Cooperstown, Sisler cited one memory of that amazing collection of talent (including George Sisler, one Hall of Fame-inducted Dad):
"Meeting all those players."
Check out the awesome photo of the 11 living HOFers who attended that day in Cooperstown. Sisler's Dad is back row, second from right, just before Walter Johnson!