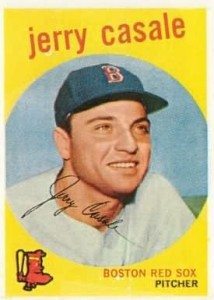 You bet!
Jerry Casale sent a thoughtful letter addressing his debut, the integration of the Red Sox and one famous teammate.
"The first game I pitched in the bigs was my favorite. I hit a home run and struck out Roy Sievers three times, who was quite a hitter.
I was in heaven after every win."

Casale was busy becoming Red Sox Rookie of the Year in 1959. Was the Red Sox integration a distraction, with media, pickets and the arrival of Pumpsie Green?
"I really never gave it any thought over Pumpsie Green. I think he was just another player on the team."

Most of all, Casale took notice of the nearby superstar in the clubhouse.
"The second biggest thrill was playing with the great Ted Williams, as I had my locker next to his the last two years. He was a very special guy and I loved him. He helped me plenty.

Thanks,
Jerry Casale"

Thank you, Jerry. Thanks, too, to the dream team at http://www.retrosheet.org/. Check out the Casale player page. Jerry is a humble guy with superb handwriting. He didn't include that his first-start dinger was a THREE-RUN BLAST! Plus, that one was of only FOUR career homers.