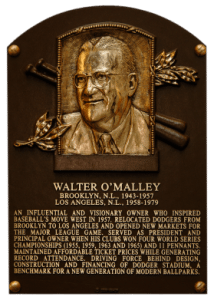 Class of 2008
(courtesy, BBHOF)
Walter O'Malley is a mysterious Hall of Famer. Some fans have reviled him for moving the team from Brooklyn. Others assume that he was just a shrewd businessman who stayed in the game for the money.
Take a look at http://www.walteromalley.com/ for another side of the baseball executive.
I found the collection of personal correspondence fascinating. O'Malley seemed giddy that his transplanted team was attracting fans from the world of entertainment. Here is a collection of their letters to the Dodgers owner, along with his replies.
Look close at the 1957 offerings. A boy named Jimmy Hahn sent O'Malley a drawing. The future Hall of Famer took time to thank a fan in writing. He promised the boy one of the first "new" LA caps in his size.
O'Malley died in 1979. There's a lesson in his correspondence, though. There's still time to reach the unreachable in baseball. Don't assume that someone won't respond, just because they're running a team. Chances are, they might be as big a fan as you!