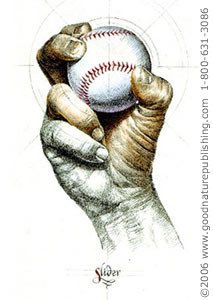 Art by Dugald Stermer,
courtesy Good Nature Publishing
Publisher Tim Colman may have a future in the majors. At least, as a major league autograph signer.
He e-mailed a kind note after providing an illustration for the Friday post about converted knuckleballer Garland Shifflett.
Tim signed his note "Best Pitches." Classic!
I had to show his company's great "slider" art, too, also by Dugald Stermer.
Any current or former pitcher would flip to see this art. Note the room on the artwork for an autograph? I could imagine getting a few notes on pitching technique after someone saw this snazzy rendition.
If you've been to the Hall of Fame Museum gift shop in Cooperstown, you may have seen Dugald's creations.
Check out Tim's Good Nature Publishing website. Buy a quantity. Your collection will never be the same!