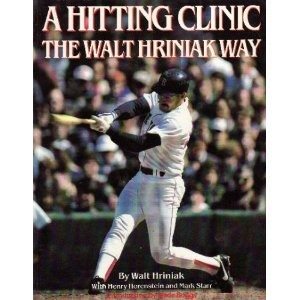 Walt Hriniak's frustratingly-short career as a backup catcher (1969-70) has no parallel to his years of success as a hitting coach with the Red Sox and White Sox. The difference? He found the perfect coach, someone he'd emulate for years. Once exposed to the wisdom of Charley Lau, Hriniak became a hitting disciple.
Walt worked first as a bullpen coach for the BoSox, serving as a volunteer batting practice pitcher. Promoted to batting coach in 1985, he stayed four seasons before being lured by the White Sox. He served Chicago hitters like Frank Thomas through 1995. To honor his mentor, Hriniak wore the #6 of former ChiSox coach Lau.
Hriniak wrote me:
"Charlie was the best coach I've ever been around. He changed the game. I think he belongs in the Hall of Fame. He was a very caring person. He helped so many people. I just was lucky to have been one of them. I loved him. Still do!"


I asked Hriniak, a former Expos minor league manager, how much harder it is to convince a major league veteran to change after years of the same batting stance. He explained:
"Players will listen if you show them a way of getting better. You just have to convince them there is a better way."
When he signed with Chicago, the media speculated on who baseball's best-paid coaches were. On the issue of the wide gap in team-to-team coach pay, Hriniak responded:
"In the 1980s and '90s, coaches in some organizations didn't make much money. There are a lot of baseball people who think you can't teach someone to hit. That sounds strange but it's true. The great organization believes that you can teach someone to hit. Those are the ones who pay coaches well!"
Hriniak worked with great baseball minds, leaders like Gene Mauch and Tony LaRussa. Nevertheless, he credits just one man for the difference he made:
"I enjoyed my time as a coach. I was able to help a lot of people. That's because of Charlie Lau."
Be sure to check out this great 2010 profile of Hriniak. In their Hall of Fame acceptance speeches, says the article, Carl Yastrzemski, Carlton Fisk and Wade Boggs all thanked Hriniak for his hitting wisdom.
To see what inspired Hriniak all these years, look up Lau's masterpiece, The Art of Hitting .300